SUNHAIR MUSIC SH CD 0013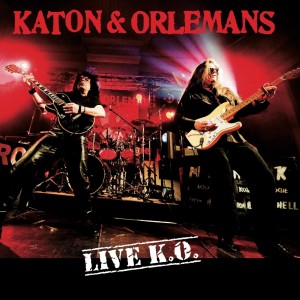 Recorded on 28 May 2015 at the Ribs & Blues Festival in front of several thousand Dutch blues fans during their "Knock Out Boogie Tour", MICHAEL KATON & ROB ORLEMANS are playing their version of high-energy, hard-riding Boogie Blues Rock.
Two Monster Boogie guitar players who constantly challenge each other to transport their solos to new heights while the dynamic rhythm section of Piet Tromp and Ernst van Ee deliver a fat boogie groove that's solid as a rock.
One of the highlights of the show is the version of "Fried Jalapenos" lasting more than 8 minutes long which is fired up by Michael's & Rob's wild guitar duels.
This album appears as a tour edition and offers a raw 'n' direct mix to show you how MICHAEL KATON & ROB ORLEMANS deliver the (boogie) goods!!!
Michael and Rob take up the lead vocals of the songs they wrote personally.
Additionally included are two interviews from May 2015 which offer an interesting insight into the boogie world of MICHAEL KATON & ROB ORLEMANS.
Get on the boogie train!!!
Band:
Michael Katon: vocals, guitar
Rob Orlemans: vocals, guitar
Piet Tromp: bass
Ernst van Ee: drums
Tracklist:
1. Get yer boogie on 05:03
2. J.L. Boogie 05:02
3. Red moon risin' 06:38
4. Indian machine 07:03
5. Get on the boogie train 08:10
6. Highway of love 04:54
7. Fried Jalapenos 08:23
8. Interview: Dewy Mulder 22:08
9. Interview: Gerda Jackson 04:58
Format:
CD jewel case with transparent tray, 8 pages booklet. Tour edition: 300 copies