Release date: 12.02.2021

Order: news(at)psychedelic-network.de
Double album in a single sleeve, neon orange vinyl, 500 copies, handnumbered, plus a printed on both sides A 3 poster, one side is the original concert poster and the other is filled with many photos from the show, poly-linen innersleeves.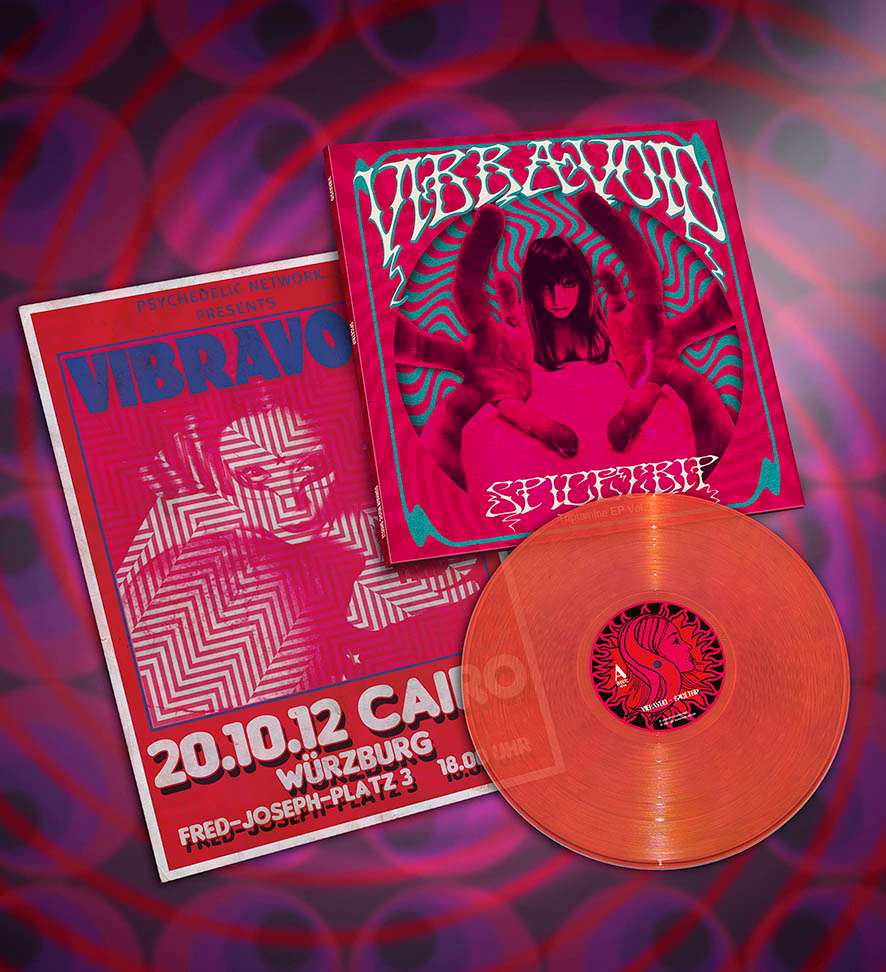 A very spacey concert of VIBRAVOID happened on the 20.10.2012 at the Jugendkulturhaus Cairo, Würzburg. This was concert nr. 113 out of my Psychedelic Network concert series: VIBRAVOID and then ÖRESUND SPACE COLLECTIVE. The show started with an ultra-spacey version of Pink Floyd's Astronomy domine, which went straight to the high energy garage rock song Vivid vision, then they dived straight into a superlong, mindblowing Ballspeaker. Right after this epic track they played the psychedelic Black and white. The great final of the show was the hypnotic hybridmonstergroove Mother sky (CAN)/ Sky Saxon mantra. Mission complete! WOW!!! Not yet, as a bonus we included the studio version of In-a-gadda-da-vida (IRON BUTTERFLY)! This studio version was released by the British label Fruits De Mer on a vinyl single several years ago and therefore was spread across 2 sides! Of course the single is sold out a long time now!
LP 1:
Side A:
Astronomy Domine
Vivid vision
Side B:
Ballspeaker
LP 2:
Side C:
Black and white
Mother sky/ Sky Saxon mantra
Side D:
Sky Saxon mantra (continued)
In-a-gadda-da-vida (studio version)
Recorded at the Jugendkulturhaus Cairo, Würzburg on 20.01.2012, mixed and mastered by the Doktor aka Christain Koch, pressed by OPTIMAL!